About Us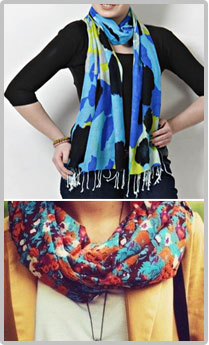 "Saboori International"is the leading supplier and manufacturer of stoles in delhi which was established in 2008. Saboori International is the Manufacturer, Exporter& Supplier of Fashion Accessories like Shawls, Stoles, Scarves, Dupattas & Beach wears. We offer different products varieties like silk shawls, Printed shawls, Kullu shawls, Silk Dupattas, chanderi Dupattas, cotton Dupattas, Printed stoles, cashmere silk stoles, Modal stoles, Cotton Stoles, Head Scarf, Polyester scarf etc. to our customers.
The products from the house of "Saboori International" has been appreciated by its buyers worldwide and has achieved the distinction of having second generation customers. We assure and trust in building a long-term relationship with our clients. Our collection of Shawls, Scarves, Stoles has won universal accolades for its wonderful quality and designs. Further the natural ability to offer custom designed products has made us the most ideal business associate in the industry. Our clientele is mostly based in the international market. With our business tie-ups with recognized C&F agents, who take care of the shipments. We are able to suffice to the worldwide demands, while adhering to timely schedules. We have connected over selves with reputed courier companies like UPS & DHL, which guarantee to deliver consignments securely on time, at any specified location.
"Sage " is well known brand in the Domestic and International Market we sell Luxurious Pashmina and Cashmere Shawls under this name. The Company follows a Strict norms for CONTROL, SAFETY, COMPLIANCE WITH MINIMUM WAGE LAWS IN INDIA, PROHIBITION OF CHILD LABOR AND PROTECTIONS AGAINST EGREGIOUS HOURS
The Company keeps updates on all information regarding various changes mode in the International Trade and Practices. Its Communication Skills with its Buyers is specially appreciated and all queries relating to various stages of Production, Shipping of new Samples are attended with promptness and replied in the shortest possible time.
Sage export different types of Pashmina Shawls, Kalamkari Shawls, Kaani Pashmina Shawls, Cashmere Shawls, Jacquard Shawls, Kashmiri Shawls, Kullu Shawls, Hand Painted Stoles, Silk Pashmina Stoles, Jamawar Stoles, Printed Stoles, Lace Cut Work Stoles, Yarn Dyed Stoles, Viscose Stoles, Silk Scarves, Digital Printed Scarves, Woollen Scarves, Kantha Embroidery Scarves, Micro Modal Scarves, Linen Scarves, Tie Dye Scarves, Organic Cotton Scarves, Rayon Scarves, Phulkari Dupattas, Cotton Dupattas, Tussar Silk Dupattas, Mens Scarves, Kids Scarves, Pareos & Sarongs.
Sage manufacture all the types of fabrics like 100% Pashmina, 100% Silk, 50% Silk / 50% Pashmina, 100% Cashmere, Wool/Silk/Cashmere, 100% Wool, 100% Micro Modal, 100% Viscose, 100% Cotton, 100% Linen and lots more. Our Shawls, Scarves and Stoles are considered to be luxurious warm and comfortable.
We are looking for foreign queries majorly from USA, Canada, Japan, Korea, Norway, Sweden, UAE, Australia & New Zealand.